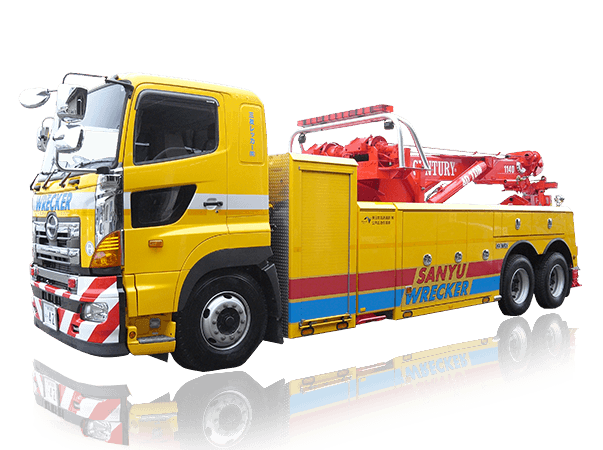 Small Size
Century 212M type

Hino BDG-XZU640F
I was equipped to four tons of cars Hino Dutro, Century 212M type 8 tons Towing Equipment: Description. It is equipped with a hydraulic air compressor for this tow truck, and tow truck towing mainly to small trucks from passenger cars.

Holmes 440PT type

Hino SKG-XZU600X type
Description: Holmes 440PY type 8 tons tow truck.
It continues to grow in recent years, in order to meet the load demand service
It is a tow truck device was jointly developed with the United States Miller.
I correspond battery jump, out of gas, tire change work, to load all service work.
It is the perfect tow truck to jump the battery in the transport system.

Holmes 440PT type

Mitsubishi PDG-FE83DY type ZE293HR Tadano crane
Description: It was equipped to 4 Tonshashi Mitsubishi Canter so that it can accommodate a medium-sized truck from a small Holmes 440PT type 8 tons wrecker.
In order to allow lifting the tire in the L-shaped arm a small wide track width, I am equipped with the L-shaped arm of 3 tons allowable load, I was fitted with a hydraulic air compressor.